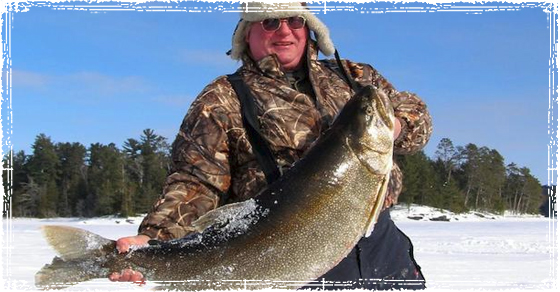 A Minnesota angler was on top of the world after catching a world record 52 pound Lake Trout during a recent expedition across the border in Ontario, Canada.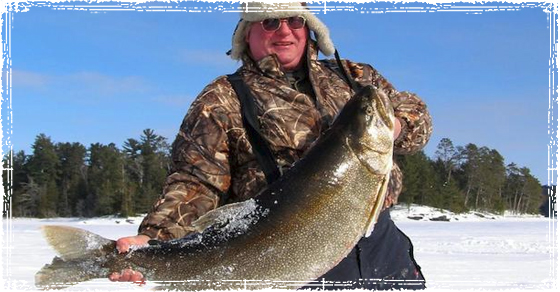 Rob Scott's 52 pound Lake Trout, which was almost 24 pounds heavier than the existing world record for a tip-up-caught lake trout, should have been this fisherman's proudest moment – unfortunately Ontario Ministry of Natural Resources claims he was one fish over the legal limit when he caught it.
Three weeks after the February 8 catch on the Ontario side of Lac la Croix, Scott finds himself the subject of an Ontario Ministry of Natural Resources investigation, his fish-of-a-lifetime seized as evidence. He know faces a possible fine and/or a restriction of fishing privileges.
What's interesting, though, is how the 65-year-old U.S. Navy veteran was caught.
After landing the giant trout, he gave the 4-pound trout to another angler, and toted the big fish back to Minnesota via snowmobile. He had only one trout in possession, and seemed home free.
But two officers with the Ontario Ministry of Natural Resources had checked Scott's fishing license on February 8, before he landed the 52-pounder. They had noticed the 4-pound trout.
When the officer saw the story in a newspaper report he recalled his encounter with Scott, and the Minnesota Department of Natural Resources, which helped track down Scott and his fish, which was being stored by a taxidermist. The fish was scheduled to be delivered by the DNR to the MNR, where it would be stored as evidence.
Late last week the Minnesota Star Tribune quoted Scott as saying there was nothing malicious about his actions, and that he was not trying to hide anything.
"I called the Ontario officers and said I owed them an apology," Scott said. "It wasn't illegal for me to keep fishing after I caught the first trout. But when I caught the bigger fish, with the adrenaline and everything I had going, and the fact that it wasn't going to survive if I released it, I figured if I gave the smaller fish away, that would be OK."
Scott explained that the big trout probably would have died if it'd had been released, because of the prolonged struggle.