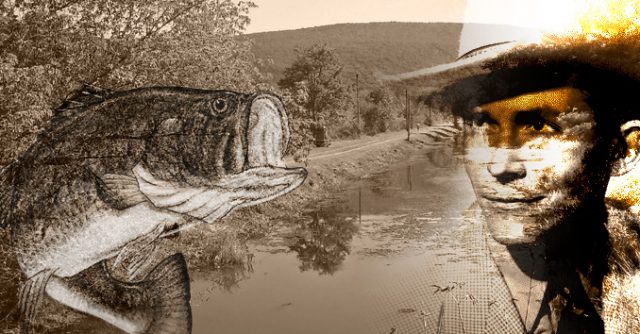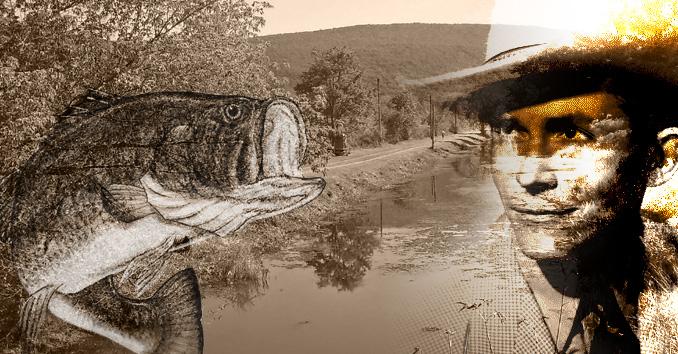 Fishing and Country Music have a long history, and many of the great Country Music legends all wrote songs about fishing and country life. If you're looking for something to put you in the mood on your way down to the river, here are some of the top country music fishing songs ever recorded.
And since we're not into that Pop Country crap, we'll start with one of our favorite country music songs about fishing…
Mississippi Mud by Hank 3
Sittin' in the bayou country,
Just me and my fishin' line
I raised a lot of hell and I hollered,
Sippin' on that Georgia moonshine
Well, I know how to have a damn good time
Beer Bait & Ammo by Kevin Fowler
And the sign said beer bait and ammo
Yeah they got everything in between
Yeah they got a-anything any old
Beer drinking hell raising bonafide redneck needs…
Five Pound Bass by Robert Earl Keen
Jumped in my john boat
I stow my gear
I fire her up and when I am in the clear
I sail across that water
As smooth as glass
Ready here I come you five pound bass
It's My Lazy Day- Merle Haggard and Willie Nelson
Well, I might have gone fishin', I got to thinkin' it over
The road to the river is a mighty long way
Well, it must be the reason, no rhyme or no reason
I'm takin' it easy, it's my lazy day.
Country Boys Can Survive – Hank Williams Jr.
I can plow a field all day long
I can catch catfish from dusk 'til dawn
We make our own whiskey and our own smoke, too
Ain't too many things these old boys can't do
Just Fishin' by Trace Adkins

A song about a Father Spending time fishing with his daughter…
I'm lost in her there holdin' that pink rod and reel
She's doin' almost everything but sittin' still
Talkin' 'bout her ballet shoes and training wheels
And her kittens
And she thinks we're just fishin'
Sittin' Here Wishin' That I Could Go Fishin' – Alton Jones
I'm Sittin' Here Wishin' That I Could Go Fishin' but I got to go to work today…
The River Just Knows – Rodney Atkins
4 a.m. comes awful early, and I was dead on my feet
But if you gonna catch a biggest fish
You gotta lose a little sleep
Well, I pack my gear and a couple beers
I headed for my favorite spot
Justin Moore – Bait A Hook
He can't even bait a hook
He can't even skin a buck
He don't know who Jack Daniels is
He ain't ever drove a truck
Knows how to throw out a line,
But not the kind in a field and stream book
I Wanna Go Fishing- Randy Joe Heavin
I wanna go fishing
Cause it takes my stress away
I wanna go fishing
Try and cast my blues away
I wanna go fishing
I don't wanna watch the clock
I wanna go fishing
I don't ever want to stop
Country State of Mind – Hank Williams Jr.
I'm just laid up here in a country state of mind
Catching these fish like they're going out of style
Drinking this homemade wine
Fishin' In The Dark – Nitty Gritty Dirt Band
You and me going fishing in the dark
Lying on our backs and counting the stars
Where the cool grass grows
Down by the river in the full moon light
We'll be fallin' in love in the middle of the night
Just movin' slow
Fish – Craig Campbell
Turns out my baby loves to
Fish, she wants to do it all the time
Early in the morning, in the middle of the night
She's hooked and now she can't get enough
Man, that girl sure loves to fish
Country Relaxin – Hank Williams Jr.
I like drivin' those old dirt country roads
I love to listen to the sound of crickets on my back porch
I like catching fish on a cane pole just about sundown time
My kinda action is country relaxin'
Country Boy – Johnny Cash
You got a wiggly worm and then you watch him squirm
While you put him on a hook and you drop him in a brook
If everything's gonna turn out right, you're gonna fry fish tonight
Jon Boat Blues – Jason Allen
Yeah I was born in a John boat, with a cane pole in my hand
I was born in a John boat, with a cane pole in my hand
Yeah my daddy was a river rat, I was born a fisherman…
Catch All The Fish – Brad Paisley
So I picked up the boys at dawn and we were on our way
It hadn't been ten minutes before Jimmy's cellphone rang
His old lady asked him how we'd be on the lake
And I said You tell her 'We're staying here however long it takes'
I'm Gonna Miss Her – Brad Paisley
Well I love her
But I love to fish
I spend all day out on this lake
And hell is all I catch…
I'm A Fishin' Man – Johnny Horton
This is a classic and if you can find it there is a version out there somewhere with Johnny Cash..
With the flash of a spoon and a river runt wiggle
A South Bend dart and a jigger pole jiggle
He lost his head when he grabbed that dinger
Now he's sittin' in the middle of a stringer
I'm a fishing man out on the lake
All you need is a line and pole that'll never break
Take Him Fishing – Merle Haggard
I'll Never Get Out Of This World Alive – Hank Williams: Performed by Hank 3
My fishin' pole's broke, the creek is full of sand
My woman run away with another man
No matter how I struggle and strive
I'll never get out of this world alive
Outdoor Plan: Hank 3
From the mountains of Tennessee
To those Minnesota lakes
I hunt and I fish
If I need to get away
If you're findin' faults with me
Moanin' more than I can stand
I tell ya what, for a little while
I'll go see the outdoor plan
Bob Wayne – Spread My Ashes on the Highway
Quit your job… an' hit the road…
See the world… an' have some fun…
Go fishin'… every mornin'…
An' take in… that risin' sun…