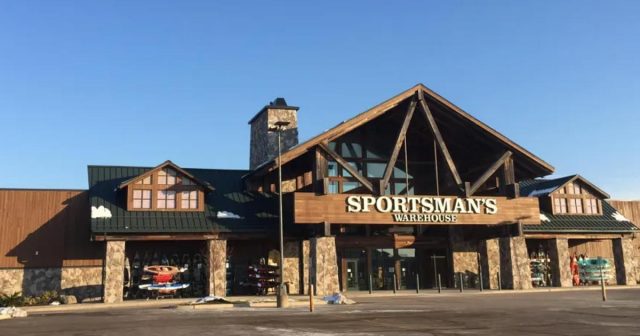 After Buying out Cabela's and basically turning them into the same cookie-cutter Bass Pro shit house, Great American Outdoors Group, the parent company that owns Bass Pro, has begun the process of buying out rival Sportsman's Warehouse.
Here Comes the BPS branded Garbage!
In a statement, Great American Outdoors, which is privately-held, and Sportsman's Warehouse cited "similar histories and highly complementary business philosophies and geographic footprints" as the merger's major drivers.
Great American Outdoors operates 169 stores across Bass Pro and Cabela's and generates more than 500 million visits to its websites annually. Sportsman's Warehouse operates 112 store locations focusing on the Western U.S, and sales are expected to be $377 million this year.
"Both entities share a passion with their customers for fishing, camping, hunting, boating, and other outdoor activities," according to a statement. "Likewise, both are highly acclaimed retailers with well-deserved reputations for a broad offering of outstanding brand names and proprietary products, superior customer service, deeply knowledgeable team members, and an unwavering passion for conservation. Uniting together represents an unprecedented "win-win" opportunity for outdoor enthusiasts."
Sportsman's Warehouse CEO Jon Barker said in a statement, "We are excited to be joining the Great American Outdoors Group. This merger brings together the greatest brands in the outdoor industry. As we look to the future, the combined entities provide our passionate associates with greater opportunities to serve the outdoor enthusiast. I couldn't be more proud of the nearly 8,000 Sportsman's Warehouse associates and their success in building our brand over the last 33 years. We look forward to a smooth transition and building our partnership."
Get Ready for the Bass Pro Branded Crapfest!
While Bass Pro is promising customers "widely expanded product offerings," the reality of the merger means the gear you once found at Sportsmans's Warehouse will be gone, replaced with a bunch of gimmicky crap and Knockoff Chinese Garbage with the Bass Pro fishing tackle and Cabela's hunting gear names.
And say goodbye to the employees who actually hunt and fish!