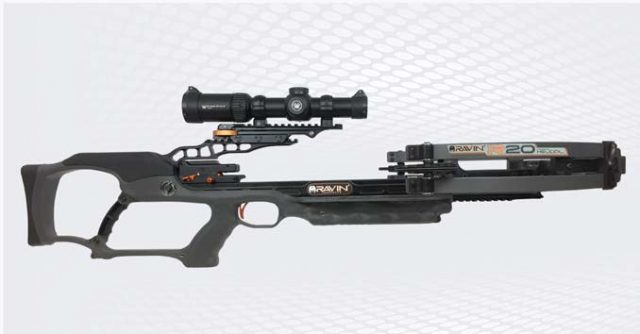 After dramatically raising the bar for crossbow performance with its first product introduction, Ravin once again delivers new and improved performance with the introduction of the new R20 Sniper Package, R20 and R10 crossbows.
According to Ravin Executive Vice President Mike Weinkauf, "While still keeping the bow compact and lightweight, we worked to improve upon HeliCoil technology that will produce even greater downrange accuracy and speed. With the new crossbows, we've accomplished just that."
R20 SNIPER PACKAGE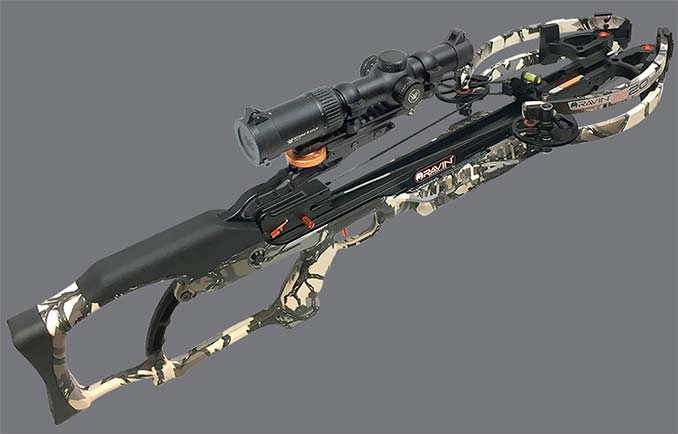 With the wickedly-fast R20 as its foundation, the Sniper Package takes pinpoint accuracy to the next level with a custom Vortex® Strike Eagle scope that mounts to a revolutionary, adjustable jack plate. Shooters can dial in the exact yardage for every shot from 20 to 200 yards. The crossbow even comes standard with a built-in riser level to ensure a perfectly vertical hold which is essential to long-range shooting. Weinkauf explains "The Ravin R20 Sniper Package is the premier crossbow on the market. If you want top end speed of 430 FPS, distance and unsurpassed accuracy, then without a doubt this Sniper is a no-brainer."
R20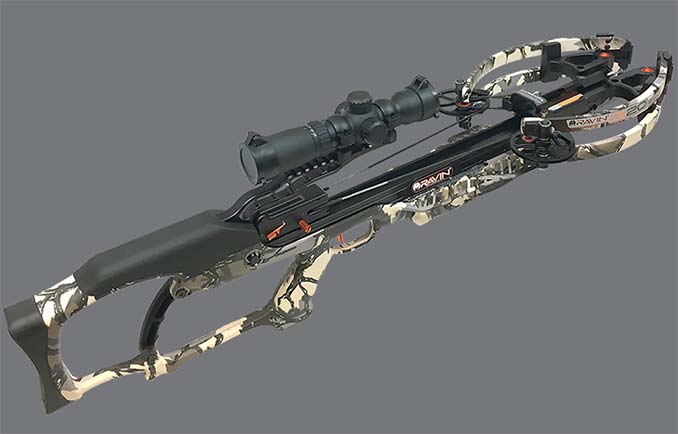 The new R20 is Ravin's fastest and most powerful crossbow to date. The Ravin R20 delivers an incredible 430 FPS with a punishing 164-foot pounds of kinetic energy. Featuring a 13" power stroke, the Ravin R20 measures 34.5" in length and weighs 7.1 pounds. The Ravin R20 also maintains its sleek design with an incredible axle-to-axle width of a mere 6 inches when fully drawn.
R10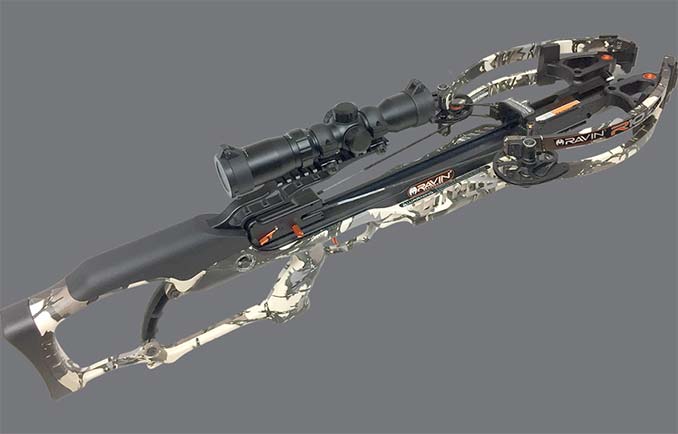 The new R10 is Ravin's most compact and lightweight crossbow to date. Weighing in at only 6.8 pounds, the Ravin R10 generates 400 FPS from an 11" power stroke and measures just 33" in length. Ravin's R10 axle-to-axle width is an amazing 6 inches when fully drawn – making Ravin the most compact crossbow on the market.
All Ravin Crossbows feature patented HeliCoil™ technology. This technology coils the cables away from both the top and bottom of the cams in helical grooves, allowing the cams to rotate nearly 340 degrees. Both cams remain perfectly level when drawing and shooting the crossbow, dramatically increasing accuracy.
The patented technology also eliminates the rail friction that other crossbows experience. Rail friction robs the arrow of speed and a consistent launch profile. Ravin's Frictionless™ Flight System generates zero friction because the arrow and string float above the rail. This Frictionless Flight System creates a quieter shot and improves string life while providing vane clearance for precise downrange accuracy.
Another Ravin exclusive feature is the Trac-Trigger™ Firing System. Operating in conjunction with HeliCoil technology, this built-in trigger mechanism slides forward on the rail clasping directly to the precise center of the string every time the bow is drawn, allowing for straight-line nock travel and a perfectly balanced draw. The Trac-Trigger contains the automatically-activated safety, anti-dry-fire mechanism and a match-grade trigger that pulls crisp and clean.
Cocking the Ravin is fast and easy with the patented Versa-Draw™ Cocking System. This compact, ambidextrous system is integrated into the stock and provides the ability for simple cocking and uncocking. No longer does a shooter have to fire the crossbow to un-cock it. The Versa-Draw cocking system requires just 12 pounds of draw force.
All three Ravin models come in Predator® camouflage or Gunmetal Grey and include:
One fully-assembled/pre-tuned Ravin crossbow
Six Ravin arrows with exclusive Ravin nocks
Ravin quiver & mounting bracket
Versa-Draw™ cocking handle
Six practice field points (100 Grain)
Built-in sling mounts.
A specialized 100-yard illuminated Ravin scope for R20 and R10 models; the Sniper Package comes with a Vortex Strike Eagle scope and adjustable jack plate and riser level.