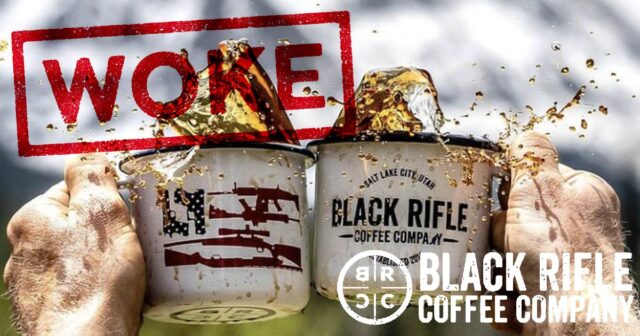 Black Rifle Coffee, a company that came to fame in the gun community after pretending to support the military and gun owners, is attempting to make a comeback this year as they announced a new sponsorship agreement to be the official canned coffee of the 2023 SHOT Show in Las Vegas.
"Black Rifle Coffee is excited to partner with SHOT Show and NSSF. We look forward to serving show attendees our coffee as well as forming a long-term relationship with NSSF," said Luke Peelgrane, BRCC Senior Vice President, Media and Marketing.
It was all about marketing! They never supported gun owners and seem to hate a large potion of their customer base!
Last year, Black Rifle Coffee showed its true colors and proved that its pro-gun image was nothing more than a cheap marketing ploy when its owner gave an interview to the New Tork Times where they threw conservative gun owners under the bus and bizarrely claimed many in the military were racist right-wing extremists.
According to the interview, Black Rifle Coffee had done well by building its phony conservative brand as the counter-culture coffee of right-wingers all across the country: "In 2015, the company's revenue was $1 million. By 2019, that figure had grown to $82 million. Last year, the company did $163 million in sales," the NYT reported.
Yet, it's owner, who bowed down to the left in the interview, said, "You can't let sections of your customers hijack your brand and say, 'This is who you are.' It's like, no, no, we define that." He then started attacking so-called right-wing extremists and claiming that a large portion of their customer base was made up of racists, saying, "I'll pay them to leave my customer base. I would gladly chop all of those people out of my fucking customer database and pay them to get the f**k out."
In November 2020, Black Rifle publicly disavowed any support or sponsorship of Kyle Rittenhouse, a 17-year-old Illinois resident who used a firearm to defend himself against BLM terrorists who were attempting to kill him. The company went to great lengths in November 2020 telling everyone they could on Twitter that they're not affiliated with Kyle Rittenhouse whatsoever.
Is Black Rifle Coffee just another WOKE CIA run company?
I guess none of this should really be a shocker, since BRCC founders Evan Hafer and Mat Best were both CIA assets who then became internet "gun" influencers — I mean they did work for an agency filled with anti-American traitors posing as patriots.
Evan Hafer, CIA operative and Founder, and CEO of Black Rifle Coffee Company, then decided to bizarrely claim that those in the military who wore the St. Michael the Archangel symbol were white supremacists. He told the NY Times, that he learned from a friend at the Pentagon that an image of St. Michael trampling on Satan had been embraced by white supremacists because it was reminiscent of the murder of George Floyd.
The closing of the interview has Black Rifle Coffee company CEO ranting about the people who supported Kyle Rittenhouse. "It's such a repugnant group of people. It's like the worst of American society, and I got to flush the toilet of some of those people that kind of hijacked portions of the brand," said Hafer.
Key employees at Black Rifle Coffee found donating to Biden and Democrats
National File citing Federal Election Commission (FEC) records revealed that Ayse Altunisik—media manager, and Chris Omer—the VP of Information Technology at Black Rifle Coffee, both donated to ActBlue, a Democrat organization that helps Democrat candidates and leftist organizations raise money online.
As Black Rifle Coffee blocks conservatives, it's important to understand that CEO @EvanHafer hired ActBlue Dem donors to run his IT and social media. pic.twitter.com/XfncLVYN1e

— John Cardillo (@johncardillo) July 19, 2021
The Manly Conservatives thing is a Gimmick, and Black Rifle Coffee thinks you are dumb enough to fall for it!
Tom Davin, a former executive at Taco Bell and Panda Express who three years ago became Black Rifle's co-chief executive, pretty much admits that they are moving away the "conservative" thing and targeting complete morons who are easily tricked marketing. In an interview he hinted at the new direction to completely abandon conservative America in favor of becoming yet another "Manly Bacon beer parody" brand like Dollar Shave Club or Harry's Razor Blades.
Tom Davin says: "Our customer is driving a tricked-out Ford F-150. It's blue-collar, above-average income, some college-educated, some self-made-type people. It's people who shop at Walmart rather than Target." They literally see you as a parody! The new push is to go after the "bass pro" crowd. In other words, just like modern pop country, if they say truck, fishing, hunting and enough of the keywords enough, they truly think you are stupid enough to buy their coffee.
At the same time, the company is still desperately trying to attract typical Starbucks customers by building their retail portfolio…
The company has gone so far off the deep end trying to cater to democrats, that they started building stores for the so-called COVID era!
"We're building a pipeline of franchise stores with about a half-dozen franchise groups right now," Davin said. "We'll probably open six to 10 franchise stores next year."
All BRCC retail stores are designed for the COVID-19 era with consumer convenience and safety as top priorities. Davin said every store has to have a drive-thru and the capability for consumers to order ahead and easily pick up orders. "Drive-thru is always going to be 60% to 65% of the business at any coffee shop. Then you've got the order ahead and curbside pickup. Those all have to be in the portfolio."