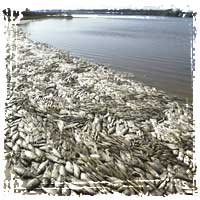 Nevada Department of Wildlife officials are trying to figure out why over 100,000 trout, bass and catfish have died over the last month in Helms Lake.
Helms Lake was created after the Truckee River overflowed its banks in 1997, spilling an estimated one billion gallons of water into the former Helms Construction Co. gravel pit in Sparks, Nevada. At the time, the city of Sparks had closed the gravel pit after officials found petroleum chemicals and solvents seeping into the pit.
Over the next ten years, the city spent millions developing the area adding a fishing pier, picnic areas, playgrounds, beaches and a hiking trail. They also regularly stocked the lake with sport fish. The lake was known to have some pretty big trout, making it a popular destination for anglers in Northern Nevada.
What's caused the Die-off?
While officials still haven't given an official cause, they did discover an unexplained drop in dissolved oxygen levels, but say it's still unclear what actually caused the massive die-off. What they are saying is the Lake is pretty much a total loss. Not one live fish has been detected since the die-off started.
The Nevada Department of Wildlife annually stocks the lake with around 30,000 fish. The stocking usually starts in late February or early March, but officials say they won't be doing that this year unless the dissolved oxygen level "makes a big recovery."