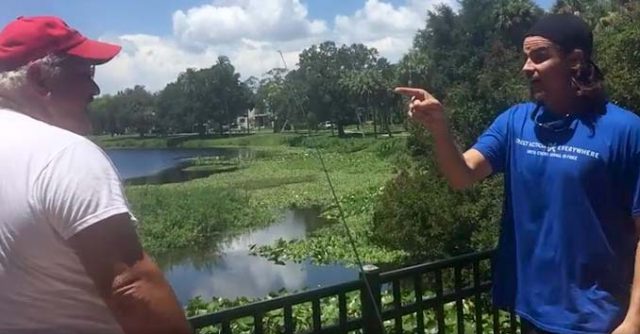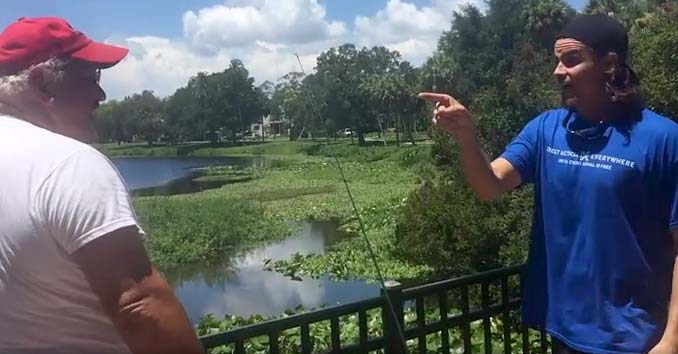 Two Anglers in St. Petersburg, Florida, got a close-up view of crazy, after a wacky animal rights activist claimed Fish Have Same Abilities as Human Children and relentlessly harassed the two fishermen.
"You guys just gonna let this fish die like this? What if this was a human child?" shouted the wacko animal rights activist from the group 'Direct Action Everywhere Pinellas'. "They have the same abilities and emotions as a human child! That's fact, sir. That's facts from science sir! I'm not harassing you; you're harassing this fish, sir!"
The Video was sent to 10News WTSP after the station aired a separate video of the activists harassing Bob Hope and his family at Crescent Lake in St. Pete.
Bob Hope spent Tuesday afternoon fishing with his family at Crescent Lake in St. Pete. Hope says his father caught a 4 lb. Tilapia and laid it on the sidewalk while someone brought him a bucket.
In the video, you can see the wacko family, who identified themselves as Vegan Activists to the new station, send their 9-year-old child in to start the harassment.
Here is the original video provided by Bob Hope:
Kayla Leaming with Direct Action Everywhere Pinellas says they were simply just trying to save the lives of animals and did nothing wrong