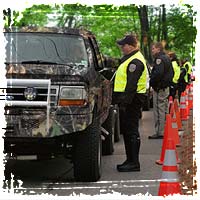 Apparently, like a lot of government agencies these days, the New Mexico Department of Game and Fish have never read the 4th amendment to our Constitution – you know the one that protects us from unreasonable searches and seizures.
The New Mexico Department of Game and Fish announced earlier this week that they will be setting up roadblocks throughout the state during the fall hunting and fishing seasons. According to the Department of Game and Fish, hunters and anglers will now be harassed by conservation officers who will conduct checks for not only game-law compliance, but adherence to provisions of the Off Highway Motor Vehicle Act and the Aquatic Invasive Species Control Act.
In my opinion, this is nothing short of harassment and just one more example of a government that's grown out of control.
The 4th Amendment Reads:
The right of the people to be secure in their persons, houses, papers, and effects, against unreasonable searches and seizures, shall not be violated, and no Warrants shall issue, but upon probable cause, supported by Oath or affirmation, and particularly describing the place to be searched, and the persons or things to be seized.
What's happening to these hunters and fisherman in New Mexico is not only unconstitutional, it's downright un-American. Here you have a group of people, who are doing nothing illegal, that are now being targeted for harassment by government officials. What ever happened to innocent until proven guilty? Does New Mexico have so little crime that they can now afford to send their officers out to harass outdoorsman?