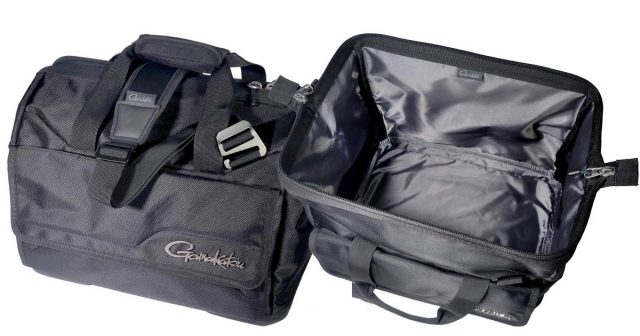 When we talk about Gamakatsu its usually about their hooks, but as fishing companies look for additional revenue streams in inevitable that they start to expand out into other product lines. Earlier today, Gamakatsu announced one of those new products when they introduced the the G-Bag EWM 5000 H Tackle Bag.
Gamakatsu Press Release:
Gamakatsu® is giving anglers the perfect tackle bag to store utility boxes and other assorted tackle with the introduction of the G-Bag EWM 5000 H Tackle Bag. The new tackle storage bag is the ideal size for a full day on the water, letting anglers bring along enough tackle to cover whatever conditions they might encounter.
Gamakatsu's new G-Bag EWM 5000 H Tackle Bag has an Extra Wide Mouth (EWM) opening for easy access, letting anglers stuff up to five Gamakatsu G-Box 3700 or eight 3600 utility cases inside. An internal wire frame keeps the main compartment in the open position, so anglers can sort through their tackle and find that perfect bait with ease. A quick-access magnetic front pocket flap also stays in an open position, letting anglers effortlessly grab often needed items from the handy pocket.
Four internal mesh slip pockets located in the main compartment make organizing small accessories simple, keeping them right where anglers need them. Two zippered mesh pockets and a large, zippered pocket on the inside of the front pouch provide even faster access to small items. A large, rubberized mesh rear storage compartment offers the perfect spot to stash spools of leader material or larger tackle items.
The durable, 1680 denier polyester construction stands up to a rough life on the water, with a water- and slip-resistant EVA molded base that protects the contents against moisture. The adjustable, padded removable shoulder strap connects to the bag via a durable metal G-hook shoulder strap attachment, allowing anglers to have the sturdiness needed all while keeping the premium look. Finishing out the premium look, Gamakatsu provides the final touches by adding a custom metal logo.  The new G-Bag EWM 5000 H Tackle Bag lets anglers carry everything needed to fish a variety of methods without weighing you down. Load one up and be prepared for anything the next time you hit the lake.
G-Bag EWM 5000 H Tackle Bag Features:
Durable 1680 denier polyester construction 
Extra Wide Mouth (EWM) opening for easy access
Quick access magnetic front pocket enclosure
Adjustable, padded removable shoulder strap
Water and slip-resistant EVA molded base 
Internal wire frame keeps main compartment in open position 
Holds up to 5 Gamakatsu G-Box 3700 utility cases (not included)
Holds up to 8 Gamakatsu G-Box 3600 utility cases (not included)
Size: 16 L x 11 W x 13.25 D inches