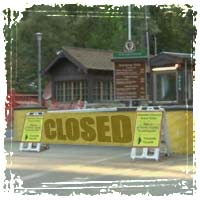 I do a lot of fishing in and around a number of National Parks and National Wildlife Refuges, so like many outdoorsman, the Government Shutdown has already affected my routine.
Late last night, the federal government, because of the government shutdown, closed down access to 561 national wildlife refuges and 368 national parks. This closure is going to have a huge impact on hunting and fishing, as millions of people use these areas to hunt, fish and camp throughout the year.
Most roads in and out of these federally controlled parks Wildlife Refuges have already been locked down, and people who were camping inside were asked to leave immediately.
Firearm Sales Could be affected by Shutdown.
According to CNN:
A shutdown would affect the Bureau of Alcohol, Tobacco, Firearms and Explosives. Translation: That gun permit you wanted processed won't happen anytime soon if this goes on for a while.
Anything that requires a federal background checks, including the purchase of firearms, could be stopped or slowed down for as long as the federal shutdown lasts. That means anyone looking to purchase a new gun for the coming hunting season may be out of luck.
Whether or not firearms will be affected is up for debate; according to the NRA the NICS system will continue to operate. That being said, the NRA did say they will be monitoring the situation in case the Feds decide to pull the plug on that to.
I'm Going Fishing!!!!
 I paid my yearly fees to enter the National Parks.
 I paid my fees to get my hunting / fishing license including, my river stamps, trout stamps and every other stupid stamp they hit me up for.
The taxes on my Ammo Purchases Pay for the Department of Wildlife
My Federal Taxes Paid for the Park Rangers at these parks.
Government shutdown or not, I'm going Fishing. Last I checked the government worked for "We the People", not the other way around.