We are pleased to bring you our interview with Kellogg's Frosted Flakes pro Dave Lefebre.  Dave has been fishing professionally for 11 years and has 11 Consecutive Forrest Wood Cup Appearances, 46 Career FLW Top 10 finishes,and 5 Career FLW Tournament Wins. He is tied for the longest consecutive streak on the FLW Tour.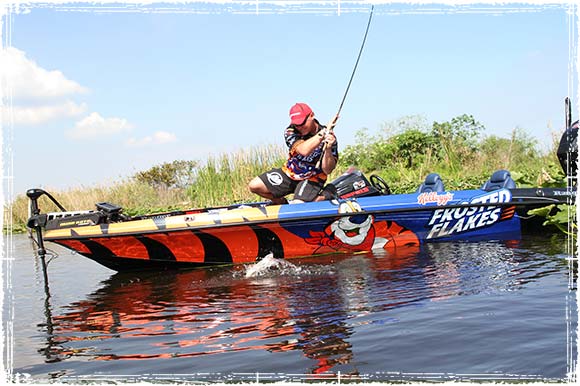 Can you tell me a little bit about yourself and how you got into fishing?
I've been fishing since I was a baby, I literally grew up in a boat, and from as early as I can remember I could never get enough of it. My Dad got me into it originally, but I've never lost the fire, still can't wait to get up in the morning. I fish for bass professionally on the FLW Tour now, having been sponsored by Kellogg's for ten years. My wife, Anne, and I haul a Tony the Tiger, Frosted Flakes boat, two Chevy trucks, and a 5th wheel RV all over country. I still like to fish for many other species as well when I'm home, and enjoy getting my kids out on the water every chance I get. My son, Mitchell is 11 and my Daughter, Macy, just turned 7.
My other passion is playing music, I'm a drummer and bass player, but also dabble in guitar and a little of everything. I played professionally for several years, but ultimately chose to fish because of the competition factor, something music couldn't offer.
Can you share general bass fishing techniques for people just getting into the sport?
You don't have to have everything. Bass fishing can be complicated, but it doesn't have to be. When you get right down to it, bass eat what they eat.. crawfish and other fish, period. If you can grasp a general idea of what swims in the water you're fishing, you can narrow down your bait choices and color selections. If the water is clear keep your baits natural looking and quiet, if it's stained use brighter colors and maybe rattling baits.
Senkos are your friends! These things catch more bass than anything on the planet. You just want to get some bites guaranteed? Get a pack of 4" green pumpkin Senkos and a pack of 1/0 offset shank worm hooks. Spool up a medium action spinning rod and reel with 6 lb test Sufix and simply tie on a hook. These baits are generally more effective without a weight, but you can add a small split shot or two if necessary. Texas rig the bait, throw it out next to a piece of cover or grass and just let it sink. The key is to not over-work it, if you don't get a bite on the initial fall, reel it in and throw it to another piece of cover.
Finally, the absolute best advice I can give is to simply use your resources. Every answer to any question you have, any technique you want to learn is available on line. Watch videos, read articles, and keep your eyes on the tournaments too. Flwoutdoors.com is a great place to start!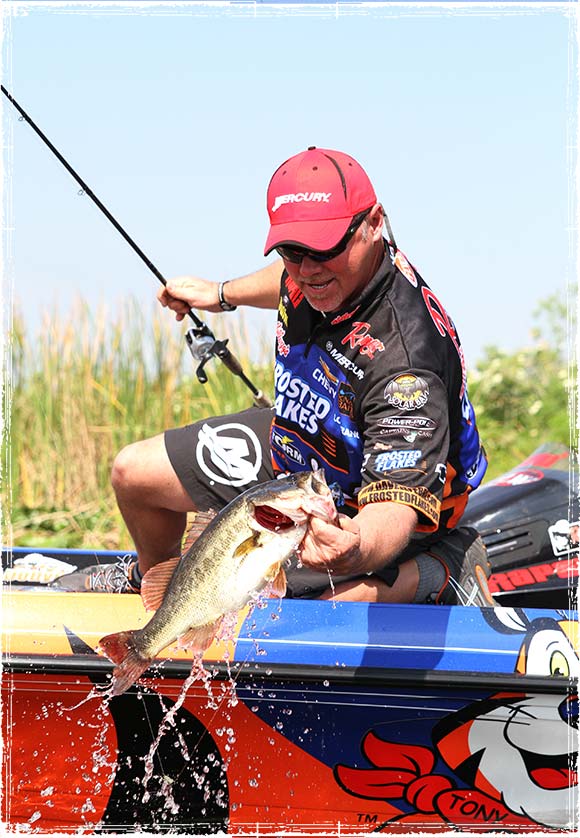 When fishing unfamiliar waters, how do you key on the perfect spot?
I don't, lol. When I'm on unfamiliar waters, I first have to convince myself that bass can be caught just about anywhere on whatever lake or river I'm on. Sometimes I might find a magic area or spot, but I'm more interested in figuring out a pattern, or two, or even three. Patterns are the key more often than not because fish often move from even the perfect spots, but once you find that certain thing they are liking, you can keep covering water and fishing fresh places. Don't get me wrong, a pattern can fall apart too, that's why you need more than one.
Eliminating some water through map study and having an idea of basic seasonal behavior goes a long way in preparing yourself before you even hit a new water way.
Aside from looking for patterns, I try to find a bait that I have confidence in, which means I need to get a few bites. Sometimes it is difficult and takes some time, but when you can find that magic bait, and combine it with the magic pattern, that's when you have those magical days.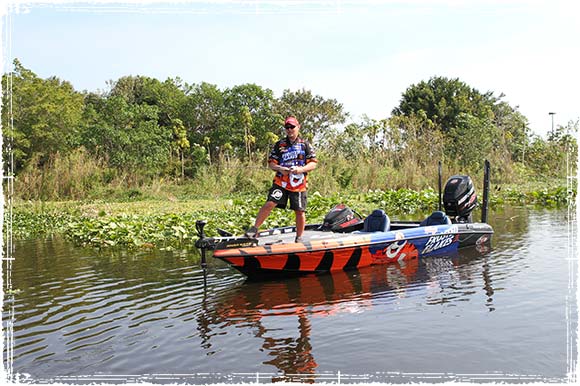 What's your favorite go to lure?
I'm kinda known as a jig guy, and I really like when it's working. Jigs are good for many reasons, they can be fished in a variety of different cover or structure, they can imitate several types of forage, they can generate bites any time of the year, and they also are known for catching better quality bass as well. My jig of choice is a Terminator in green pumpkin or black and blue. I normally use a matching Yamamoto double tail grub as an added trailer on my jigs.
If I'm having trouble getting bites, or I'm in an area that has been heavily pressured, a bait called a Kinami D-Bug has pulled me out of the gutter on many occasions. It's a little soft plastic craw imitation that doesn't require much action. I like it with a light 1/8 oz weight and a small 2/0 light wire hook. I complete my set up with a Dobyn's 742 Champion Rod and 10lb Sufix fluorocarbon line.
What are your top three techniques for catching giant bass?
Well, in living up in Erie, PA, I'm not all that versed in catching "giant" bass per say. A giant one in my neck of the woods is probably over 5 1/2lbs I'd say.
As I mentioned before, a jig is a very good choice for getting a big bite. I especially like fishing around shallow visible cover, but the key to catching the biggest ones is all about the the time of year. Pre-spawn and late fall are my two favorite periods to fish this way. It usually also requires a super slow methodical presentation and some accurate casting.
The two biggest fish I've ever caught however were on a big black jig. One was 9-1 and won big bass honors in a tournament on Lake Murray, SC in the spring, and the other was caught on the St Johns River, and weighed 11-1, I caught here in the fall.
I think a swimbait would be my second choice. Swimbaits come in every size imaginable and of course the bigger the better when targeting solely targeting giant bass. However, I've caught bass up to 8lbs on 4-6" swimbaits with many in the 5 to 7lb range. Bigger fish are more predictable in those same times I mentioned for the jig, but a swimbait also really works well in the middle of summer when the biggest fish in the lake are out deep on structure. I look for textbook things such as deep points, creek channels, humps, and deep rocky areas or shell beds. This technique requires knowing how to read electronics, I use Lowrance HDS units but you certainly don't need high dollar stuff or a masters degree to find the right areas.
I rig a Yamamoto or Storm Pro Paddle Tail on an open 1/2 to 3/4  oz shad type jighead, and I usually try to keep it as close to the bottom as possible, fishing it pretty slowly generally in depths anywhere from 10-25 feet.
If I had to pick a third it would be a buzzbait. Buzzbaits have always been known to catch bigger fish and when you give them a chance I think it becomes obvious. I've always caught my biggest buzzbait fish early in the year and again later in the fall. Most of the bigger ones have also come on a darker color, like black, I think simply because of low-light conditions. Fishing them as slow as humanly possible seems to trigger the biggest bites, just as the previously mentioned techniques.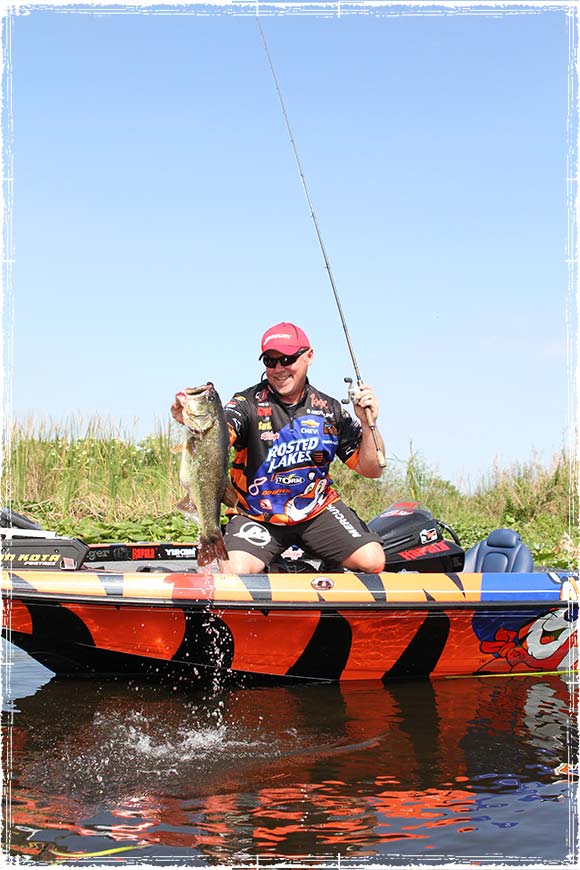 When targeting trophy bass, do you do anything different from when you're fishing for ordinary size bass?
I head south, lol. But seriously, aside from what I mentioned above, not really. Bigger bass like bigger baits.