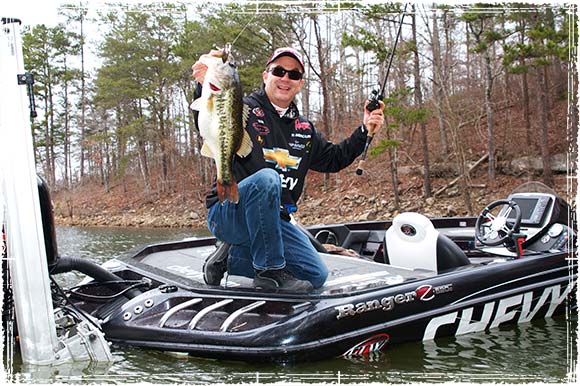 Today we are pleased to bring you our interview with Chevy pro Jay Yelas. Jay has been one of the top anglers in the sport for the last 20 years, and was named 2002 & 2007 FLW Tour Angler of the Year.
Can you tell me a little bit about yourself and how you got into fishing?
I started fishing with my two Grandfathers and my Dad when I was young. Fishing was something my family had always enjoyed.  As a kid, we mostly fished for salmon and trout on the West Coast, and I got into bass fishing when I was in high school.  A buddy and I started bass fishing every weekend in a 13′ johnboat with a 6 hp motor.  I started team tournament fishing while at Oregon State, then began my pro career right after graduating.
Can you share general bass fishing techniques for people just getting into the sport?
Here is a simple way to look at it for novices: bass are either in open water or heavy cover.  If you want to try for them in open water use crankbaits like a Yamamoto Chikara 300, swimbaits, or maybe a shakeyhead worm.  If you want to see if they are in the heavy cover, learn to flip and pitch baits into the cover like Punisher Jigs or Yamamoto Flappin Hogs.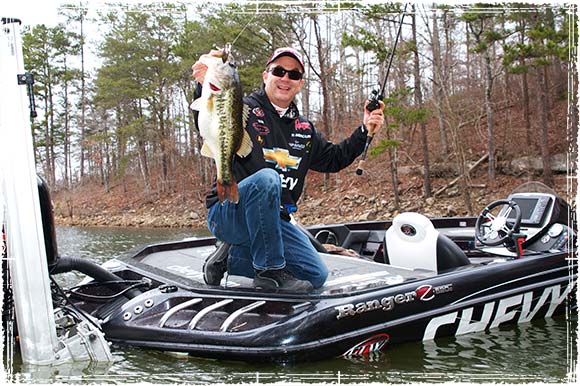 When fishing unfamiliar waters, how do you key on the perfect spot?
I generally takes a while, even for pros, to find the "perfect spot" in unfamiliar waters.  It's all trial and error.  My best advice is to go early and stay late to learn new waters.
What's your favorite go to lure?
Yamamoto Senko
What are your top three techniques for catching giant bass?
1)9″ Osprey swimbait
2)Punisher Lures J-Jig with a Yamamoto Flappin Hog trailer
3)Punisher Lures Spinnerbait with big willow leaf blades
When targeting trophy bass, do you do anything different from when you're fishing for ordinary size bass?
Yes absolutely, trophy bass are always near deep water, so you have to concentrate your efforts there.  Ordinary sized bass can be extremely shallow, and the action can be fast in the shallow.  But you won't find trophy bass up in skinny water.