Fans of SOG's SEAL series of knives, like the SOG Seal Pup, are going to dig the newest addition to the line, The SEAL Strike.
The knife was one of the newest offerings that SOG rolled out at this year's SHOT Show in Las Vegas. We got to take a good look at the knife, and we really liked what we saw.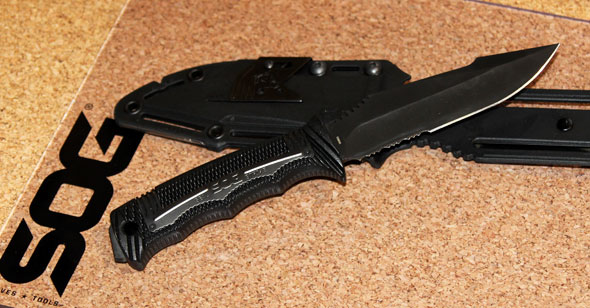 Featuring a AUS-8 powder coated stainless steel blade, the new SEAL Strike is the first major update to the line in quite some time. SOG says they used everything they "learned from years of real-world deployment" when designing and constructing the upgraded fixed-blade knife.
The SEAL Strike comes standard with a hard nylon sheath, or with an updated deluxe version that features a built-in cord cutter (which uses the knife's blade), a single-stage sharpener and multiple attachment points.
SHEATH OPTIONS


KNIFE SPECS
The SEAL Strike is one solid knife. I'm a huge fan of the whole line, but I really like the redesigned look and the upgraded Sheath features.
The Blade: 4.9-inch partially serrated edge AUS-8 powder coated stainless steel blade
The Handle: A slightly longer ergonomic glass-reinforced nylon handle, with deeper finger grooves than the traditional SEAL Pup
Overall: Extended full tang construction with a hammering pommel. 9.6-inches, Weight: 5.6-ounces