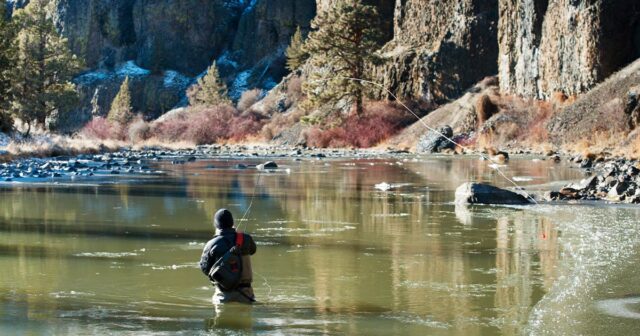 Fly-fishing is completely different from other forms of fishing, so it can be a little overwhelming for those who are new to the sport and think they will be able to jump right in. Jeff Ehlert, owner and head guide at Winter Park Flyfisher in Fraser, offered our readers some tips to help them get started.
1. Plan ahead. "There are lots of good books and videos on fly-fishing, so you can learn the basics about tying and casting before you even get to Winter Park," says Ehlert. Taking time to do a little homework before arriving helps ensure less frustration and more time fishing.
Orvis has a ton of great videos that can show you the ins and outs of fly casting, fly selection and and how to catch fish on a fly.
2. Go with a guide. The time visitors have to fish is often limited, so hiring a guide can help maximize time on the water and avoid the confusion of picking the right stretch of river or choosing the perfect fly. "A guide is your fast track to a frustration-free fishing experience. No matter how good you are, after spending time with a knowledgeable guide, you will walk away a better fisherman," notes Ehlert.
3. Don't be a "gear head." The amount of equipment available for fly-fishing – as with any sport – can be intimidating for novices. But Ehlert says it is possible to get into fly-fishing for about $150. "That's not a bad investment even if you grow out of that beginner gear right away," explains Ehlert. "You can always pass that initial equipment on to your kids, or keep it for when friends or other family members want to fish with you."
We recommend the Temple Fork Outfitters NXT in a 5WT as a good starter fly fishing rod and reel combo that will last a lifetime.
4. Women, wade in! Ehlert says women shouldn't be afraid to try the sport of fly-fishing. In fact, he notes that women often pick up the art and rhythm of fly casting more quickly than their male counterparts. "Women just have a gentler touch that works well in this sport."
5. Time the trip. "I always say the best time to fly-fish is whenever you can," Ehlert jokes, "but there are some things to consider." Ehlert says early spring can be very exciting with the mountain snowmelt, but that it can be hard to "hit" the fish. Late spring is salmon fly hatch season, which means very active trout. In September and October the crowds clear out, the mountains come alive with fall colors and the waters are crystal clear.