I'm always on the lookout for different ways to prepare my game, so I was thrilled to receive a recipe from renowned chef and outdoorsman Charlie Palmer.

Charlie Palmer, who recently released a new cookbook geared towards outdoorsman, Remington Camp Cooking
, has allowed us to share one of his world famous recipes with you, and has also provided us a few tips for field dressing birds in the field.
Charlie Palmer's Grilled Spiced Dove Skewers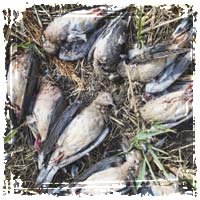 Breasting the birds in the field:
Breasting birds in the field – meaning a cut around the neck of the bird and pulling back both the skin and feathers and exposing the breast meat and simply cutting each breast away from the rib cage.
Placing the individual breast in a bag with the dry ingredients can start the curing process right away and is a good way to transport.
Ingredients
2 tablespoons dried orange peel
2 tablespoons coriander seed
1 teaspoon black peppercorns
2 teaspoons fennel seed
2 teaspoons coarse salt
2 teaspoons paprika
Boneless breasts from 12 doves
Serves 3-4 breasts per person
Method
Preheat the grill and oil the grill rack.
Grind all the spices in spice grinder or mortar and pestle and place in a bowl. Coat the breasts in the spice mix. Skewer the breasts and place on the grill. Cook, about 3 to 4 minutes per side, until the interior is no longer pink or internal temperature is 150°F. Let rest for 5 minutes.
Serve over shaved vegetable salad with buttermilk black-pepper dressing.