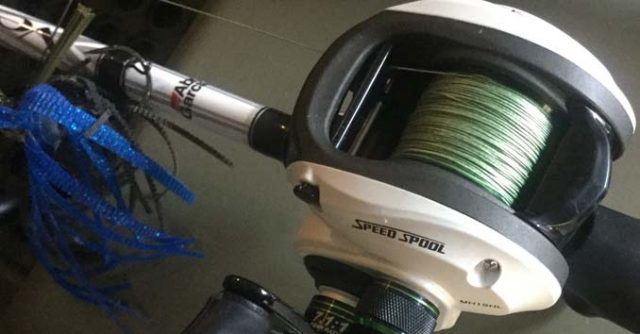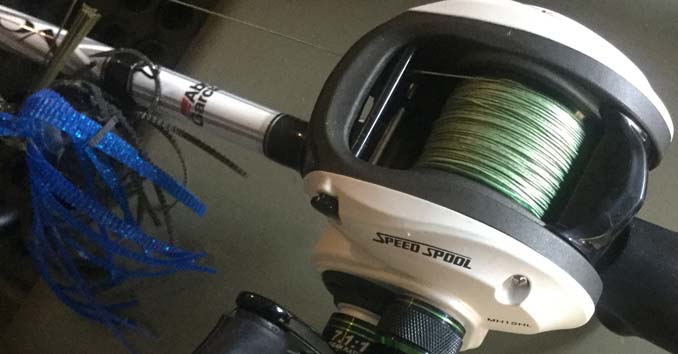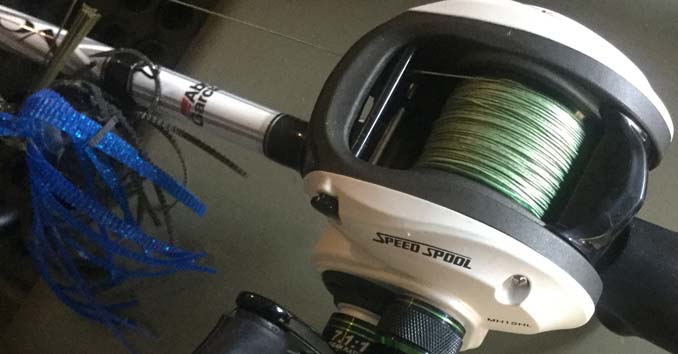 On 90% of my setups I use Braided Fishing line; but very rarely do I use a Fluorocarbon or Mono Leader on my setup. In my opinion, there are very few occasions when a leader is even necessary. For those that think the fish are spooked by the braided line, tell me how those same fish aren't spooked by the skirts on your swimbaits, or the gigantic unnatural weed guards on your football jigs.
I mean let's get real; the hooks on your lures don't look natural. Are you going to stop tying on hooks?
The fact is, unless you're fishing crystal clear water – and even then I'm still not afraid to throw straight braid – there are very few times when tying on a leader is going to increase your hookup ratio.
If you are fishing stained waters, there is absolutely no point to tying on a leader.
Nine times out of ten I'm not going to do anything special when fishing with braid. That being said, I almost exclusively use a dark green color when I'm fishing with braided line. If the line is going to spook a weary fish, the newer dark green braided fishing lines are almost as invisible as any Fluorocarbon or Monofilament line. In fact, I would argue that because the diameter of these braided lines are so much smaller, they are probably even more invisible to the fish than a higher test weight Fluoro or Mono line.
Think about it; I can pitch out a 65lb braided line that is going to be the same diameter as a 12lb mono line. In situations where you need that higher test line, why would you not use straight braid?
Tips for Fishing High-Vis Braided Line without a Leader

If you are fishing with a bright color line, something like a neon yellow high-visibility braided line, then you might want to do something to make the line a little less visible as it attaches to your bait. To get around using a leader, grab a dark green sharpie and color the first 24"-36" of line just above your lure with the sharpie. This will camouflage the line just enough to throw off any fish that may have been leery of the brightly colored line.
Why would you fish Braided Line without a Leader?
You can throw a thinner diameter line, without worrying about adding a big chunky leader.
You eliminate one more potential weak spot. Tying on a leader, no matter what type of knot you use, adds one more potential weak spot to your fishing setup. If you are throwing Braid then throw Braid; if you want Mono or Flouro then your entire reel should be spooled with it;. Why add a weak spot?
You will cast farther: When using rods with micro guides, you don't have to worry about your knot hitting the guides every time you casts. That little bit of resistance does make a difference, and overtime that knot can wear down your guides.
Less Backlash on Baitcasters: For those using baitcasters, that knot hitting the guides can increase your backlashes.
So what are the Benefits of adding a Leader to Braid?
There are sometimes when adding a leader makes sense, and most of the time that has nothing to do with the ability of the fish to see your line — but for those of you who can't get over that mental block, I'll add that to the list.
Crystal Clear Water: There are some who will argue that you should always tie on a leader when fishing crystal clear waters; while I've never noticed a significant difference in how many fish I catch, I will give them this one and say there is a slight possibility that it may improve your catch count.
Fishing areas where lures become snagged: If you are fishing areas where your lure keeps getting snagged, you may want to think about adding a Fluorocarbon or Mono Leader. If you are using Braid it's almost impossible to snap the line, but if you tie on a leader you will be able to break the line right at the knot. Using a light leader will control how much line is broken off at one time.
Fishing in the Wind: Fluorocarbon is stiffer than braid, so in really windy condition it may help keep your bait from tumbling and twisting up in the wind. If you are chucking baits with treble hooks, and you notice the braid keeps getting wound around the hooks when casting, try tying on a Fluorocarbon leader and that should solve most your problems.
A leader also saves main line: Using a Leader allows you to save the amount of braid your cutting every time you tie on a new lure; since braid is pretty darn expensive, tying on a leader can save some money in the long run.
It acts as a Shock Absorbed: Most braids have almost no stretch; because of that hook-sets can sometimes be a problem for those who run straight braid. When fishing baits where heavy hook-sets might be a problem, adding a leader can help cushion the direct pressure on the hook, helping you nail those big bass without ripping the hook right out of their mouth.