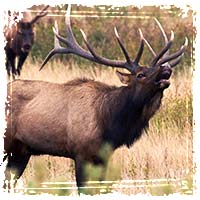 New Mexico State officials are trying to figure out why more than 100 elk fell dead in a 24 hour period last week.
Biologists have been dispatched to an area in Northeastern New Mexico, about 20 miles north of Las Vegas, after over 100 elk found were dead on a 75,000-acre Buena Vista Ranch near Mora.
The Elk were not shot, and there were no signs of anything criminal, so with elk bow hunting season starting, the New Mexico Department of Game and Fish is scurrying to figure out why the area's elk are dying. So far no official explanation has been given, but one possibility that's being tossed around is something called Epizootic Hemorrhagic Disease, or EHD.
EHD is an often-fatal disease caused by insect bites that has affected elk in the past. "With EHD, an elk could get a fever," said Game and Fish spokesperson Rachel Shockley. "It's usually a pretty fast illness, and up to eight to 36 hours later the animals go into shock, and then they die."
The New Mexico Department of Game and Fish is sending tissue samples from the elk and water samples from the area for testing. They are asking hunters to avoid harvesting elk that appear sick and to immediately report anything unusual.